STEM Living and Learning Community (LLC)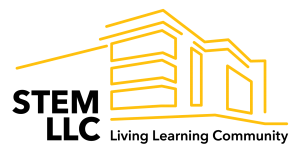 The STEM Living-Learning Community (LLC) is a collaborative community, sponsored by the College of Natural and Mathematical Sciences. It offers science, technology, engineering, and mathematical (STEM) majors opportunities to engage in and strengthen their undergraduate experience through a series of student planned activities on and off campus that are organized around a science theme.
The STEM LLC joined the campus as UMBC's tenth Living and Learning Community (LLC) in Fall 2015 and expanded to 99 students in Fall 2017. It is typically for first year students (Freshmen) and BTP Trainees.
The goals of the STEM LLC are to:
Develop intentional connections and relationships among students majoring in STEM
Facilitate the time and space for students to connect with STEM and UMBC faculty and administrators
Prepare students for applied learning experiences, such as undergraduate research
Provide opportunities for students to network with leaders from academe, industry, and government
Explore and experience cultural learning opportunities
Participate in community service events
Promote and cultivate an environment which promotes ethical development in the sciences

Visit: stemllc.umbc.edu